NOVA: An Acoustic Journey
Juliet Lyons & John McLean Allan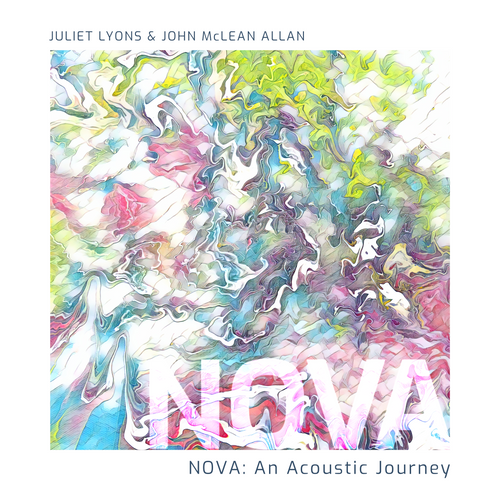 Debuted #1 on the iTunes and Amazon New Age charts
NOVA: An Acoustic Journey is a brand-new collaboration between two established artists who stand at the beginning of an exciting new musical adventure. A singer and a bagpiper put the instruments they're best known for aside to deliver an acoustic-forward collection of gentle, soothing, and uplifting sonic creations. With John McLean Allan originally from Scotland, and Juliet Lyons originally from New Mexico, the two Los Angeles-based composers seamlessly blend musical perspectives.
Juliet's last album, The Light Within, debuted at #3 on the Billboard New Age charts. A collection of songs created for yoga, healing, and inner peace; the album peaked at #9 on ZMR (New Age charts). The album also received honors at the Hollywood Music in Media Awards (Best New Age Song), The Peace Song Awards (Best New Age Song), The Independent Music Awards (New Age Song nomination), and ZMR Awards (Best Vocal Album nomination). Juliet's voice and music can be heard in over 200 television shows, and feature films such as Disney's live-action "Cinderella," and "The Ghost In The Shell."
John is a multi-instrumentalist/composer and a lifetime Scottish Bagpiper. John's music can be heard in the Oscar Winning movie "Million Dollar Baby" and "Superman vs. Batman" and throughout television on Emmy winning shows "Modern Family" "How I Met Your Mother," and countless others. John has appeared playing the bagpipes on numerous shows and films such as "The Tonight Show," and "Austin Powers 2." John's live experience includes performing at the Hollywood Bowl with Grammy-winning Chieftains, with Korn, Charlotte Church, and at Coachella.
What People Are Saying
"You will realize quickly that you're in the presence of musical masters...a listening experience you will treasure for years to come."
- Dick Metcalf, Contemporary Fusion Reviews
"Soft-spoken yet soulfully immersive duets...Two musical travelers on once-divergent roads found common purpose in beautiful expressions."
CREDITS
All songs written, performed, and produced by John McLean Allan (ASCAP) and Juliet Lyons (ASCAP).
Guitars: John McLean Allan
Piano, Synths, Flute, Percussion, Vocals: Juliet Lyons
Mixing: John McLean Allan
Mastering: Tom Eaton