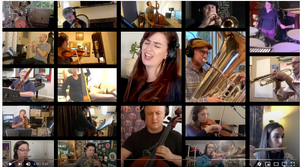 What a strange spring it has been. Despite the uncharted territory of navigating a global pandemic, it has been "music as usual" for me. Some highlights:
- Thrilled to report that "The Light Within" has been nominated for "Best Vocal Album" at the One World Music Awards and the ZMR (Zone Music Reporter) Awards
- I was honored to be part of composer Shie Rozow's arrangement of "Bridge Over Troubled Water/What a Wonderful World" in support of in support of the Motion Picture Television Fund's COVID-19 Emergency Relief Fund. The video was covered by Newsweek and Deadline. Consider supporting artists through the MPTF here, and watch the video here.
- Looking forward to returning to the judging panel of the Singer/Songwriter contest at the San Diego County Fair this June.
Stay safe and well my friends!